Cash Management Safes
Here you will find some basic information on cash management safes. To see what safes we have in stock, please navigate to the main Safe Products page to view our in-stock safe gallery!
AMSEC SafeWizard®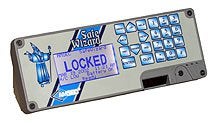 AMSEC Safe Wizard


Safeguard


Dallas Key


Door Sensor
The SafeWizard® electronic safe controller is a state-of-the-art electronic product for use in controlling and auditing access to safes. Designed to prevent burglaries and internal theft, the SafeWizard® controls and documents each access to the safe. Based on contemporary high speed processors, unique user friendly software techniques and ingenious application ideas, this system surpasses all other safe access control systems.
The SafeWizard® Features:
A powerful system based on the ColdFire® 32 bit microprocessor from the Motorola DigitalDNA®.family of embedded development platforms.
Flash Memory for quick software upgrades via a laptop computer.
Over 8,000 audit entries and 40 users.
Access Control Features:
Time Delay any door with a 1-99 minute delay and 1-99 minute open period with cancel feature.
Time Lock any door, 1-6 windows per day.
Time Lock any door on the fly for a selectable duration.
Wrong Try Count Penalty Lockout, user selectable settings.
Armored Car courier Time Delay and Lock Bypass.
Duress/Hold-up Alarm with Silent Signal output, +/- on last PIN digit.
Dual Control Mode on any individual door, selectable by user.
Built-in key maker, complete with management tool set, audit trail sorting by several criteria.
Ultra-high contrast 8 x 20 graphics display with backlighting feature with 8 lines and high visibility fonts for easy reading at a distance.
Rechargeable Battery Backup with A/C power, PIN code and/or Dallas Key access control.
Redundant audit and configuration database controls up to 6 safe doors.
Built-in Infra-Red Port for audits to
palmtops.
Superb navigation features. Breeze through menus that are intuitive and easy to understand.
Built-in System Diagnostics with test modes.
Parallel Printer Interface provided in the Power Supply Module connects directly to any conventional parallel printer.
Tamper-proof door, boltwork and deposit sensors.
Easy wiring with RJ11 six conductor phone style cabling.
Device communication is completely secure with VaultLAN® RS485 local area network communications system.
AES 128 Bit Data Encryption