Depository Safes
Here you will find some basic information on depository safes. To see what safes we have in stock, please navigate to the main Safe Products page to view our in-stock safe gallery!
"B" Rate Rotary and Front Loading Depository Safes



DSF 2014 DSF2714K
w/ESL10 Lock



DSC2014KC DSF3214CC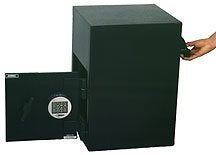 DSR2014 with ESL-10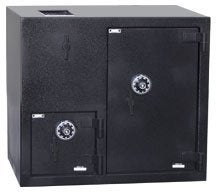 DST2731CC
AMSEC's DS series Depository safes are designed to provide immediate deposits and secure storage for cash, jewelry, and miscellaneous valuables. Deposits can be made through a locked door via a top-loading rotary hopper, a reverse hopper, or a front-loading deposit door.
Features:
Body:
Strong, formed "B" Rate construction made of A36 solid steel plate for improved security and appearance.
Formed door jamb for increased resistance to sledgehammer attack.
Four anchor bolt holes are standard.
Door: (Models #2014 and 2714 )
1/2″ thick A36 solid steel plate, recessed 1/2″ to increase resistance to pry attack.
U.L. Group II combo lock (C), U.L. listed dual nose keylock (K).
Three 1″ diameter chromed steel locking bolts.
Bolt detent system engages boltwork automatically.
Auxiliary spring-loaded relocking device.
Lock and relock protected by large carburized hardplate.
---
Additional features: (Models #3214 and 2731)
3-way boltwork with 1″ x 1/2″ rectangular plated bolts.
Hopper:
2014/2714 are available w/ reverse hopper.
Large package sizes: (Extra-large Rotary):
6-1/4″D x 5″ W x 10-1/2″L
(Front/Reverse Load): 4″D x 2″W x 9-3/4″L
Recessed, heavy duty 3/16″ construction (1/4″ door).
Protected by dual "anti-fish" baffles.
Additional Features: Wide Body (Model #2731)
Unique space-efficient, side-by-side design creates full depth depository and large storage compartment.
Accepts cash trays up to 13″ x 18″.
Optional coin rack available on storage compartment door.
Model
No.

Inside
H x W x D

Outside
H x W x D*

Door
Opening

Cubic Inch
Capacity

Wt.
Lbs

DST2014

11-1/2 x 13-3/4 x 11

20-1/4 x 14 x 14

9-3/4 x 9-3/4

1,739

100

DSF2014

10 x 13-3/4 x 11

20-1/4 x 14 x 14

9-3/4 x 9-3/4

1,513

94

DSR2014

10 x 13-3/4 x 11

20-1/4 x 14 x 14

9-3/4 x 9-3/4

1,513

94

DSC2014KC**

(bottom) 10 x 13-3/4 x 11

27-1/4 x 14 x 14

(bottom) 9-3/4 x 9-3/4

1,513

118

(top) 6-5/8 x 13-3/4 x 12-3/8

(top) 6 x 9-1/2

1,127

DST2714

17 x 13-3/4 x 11

27-1/4 x 14 x 14

9-3/4 x 9-3/4

2,571

120

DSF2714

17 x 13-3/4 x 11

27-1/4 x 14 x 14

9-3/4 x 9-3/4

2,571

110

DSR2714

17 x 13-3/4 x 11

27-1/4 x 14 x 14

9-3/4 x 9-3/4

2,571

110

DST3214

(top) 12-1/4 x 13-3/4 x 11

32-1/4 x 14 x 14

9 x 8-1/2

1,664

152

(bottom) 11-1/4 x 13-3/4 x 11

1,890

DSF3214

(top) 9-1/2 x 13-3/4 x 11

32-1/4 x 14 x 14

9 x 8-1/2

1,437

144

(bottom) 12-1/2 x 13-3/4 11-1/4

9 x 8-1/2

1,891

DST2731

(left) 18-1/2 x 14-3/8 x 18

27-1/4 x 303/4 x 21

(left) 9 x 8-1/2

4,787

285

(right) 27 x 16 x 18

(right) 22-1/2 x 13

7,776

DSF2731

(left) 17 x 14-3/8 x 18

27-1/4 x 303/4 x 21

(left) 9 x 8-1/2

4,399

276

(right) 27 x 16 x 18

(right) 22-1/2 x 13

7,776
* Add 2″ to outside depth for dial and handle projection.
† Specify Prefix: T=Top loading, F= Front loading, R=Reverse hopper.
Suffix: K=Keylock C=Combo lock.
** K=Camlock